and a longer one:
Remembering the Times and Events at the Berkeley Fellowship in the 1980s and 90s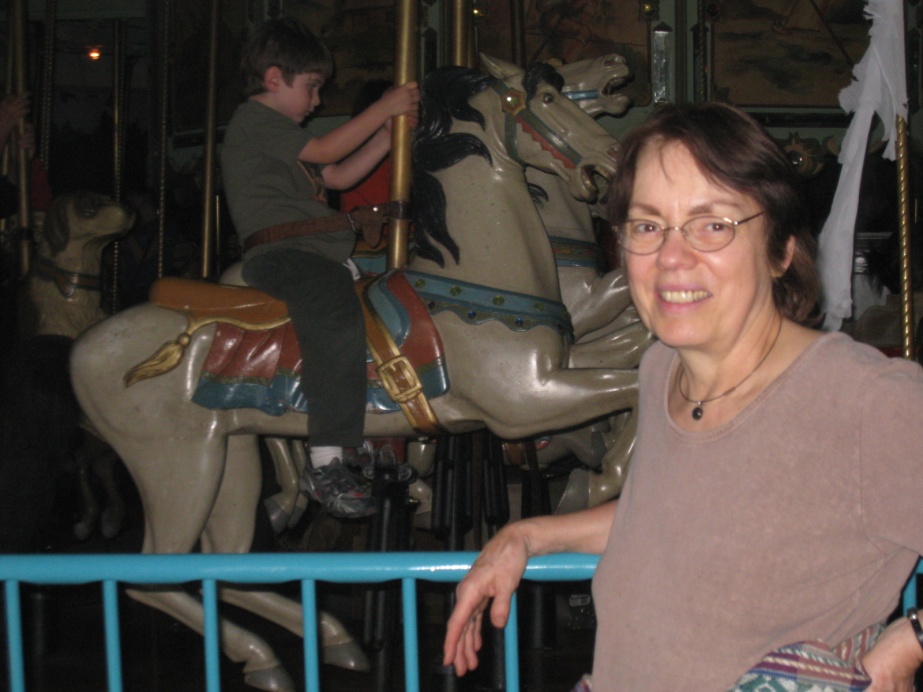 Liz at the antique menagerie carousel located in Tilden Regional Park near Berkeley, California. Liz and Bob attended the sunrise ceremony several times at Inspiration Point in Tilden Park held on Beltane, May 1st. Morris Dancers were in attendance too

It is with unfathomable sorrow that I let you know my life companion of 48 years, partner in creativity and in the pursuit of happiness and justice, Mary Elizabeth (Liz) Fisher (née Turner), has been embraced by the wings of Isis Friday, September 25, 2020 at 11:28 AM PDT. She was 3 weeks shy of her 73rd birthday. Born in Cleveland Ohio, October 15, 1947 at 12:22 PM, she emigrated to California in 1970. You are invited to share memories or give tribute to Liz's legacy.

This website, among many other projects, has been Liz's labor of love for 3 years (2017-2020) overlapping with the 3 years (2015-2018) she wrote a monthly column for Nature's Path, visit https://www.riseupandcallhername.com/ for a full showing of her work. Liz did a Women & Religion oriented bio – you can find it at https://www.riseupandcallhername.com/liz-fishers-women…
Rainbows at the Crossroads is a work in progress combining fiction based on memoirs with knowledge needed to salvage ancestral values. I will endeavor to keep publishing this relevant material as I continue to unearth it in our archives.
Blessings,

Bob Fisher