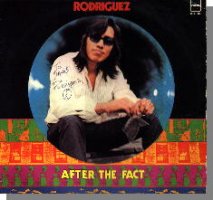 Rodriguez was born in 1942 in Detroit, Michigan. He was the sixth child of Mexican immigrant working-class parents. He was named Sixto (pronounced "Seex-toh") because he was their sixth son. His father had immigrated to the United States from Mexico in the 1920s; his mother was also from Mexico. They had joined a large influx of Mexicans who came to the Midwest to work in Detroit's industries. Mexican immigrants at that time faced both intense alienation and marginalization.
In most of his songs, Rodriguez takes a political stance on the difficulties that faced the inner city poor. Musically, he's been compared to Bob Dylan and Cat Stevens. Rodriguez earned a Bachelor of Philosophy from Wayne State University's Monteith College in 1981.
Song Lyrics – Album: COLD FACT (1971)
http://sugarman.org/rodalbums.html
THIS IS NOT A SONG IT'S AN OUTBURST: OR THE ESTABLISHMENT BLUES
The mayor hides the crime rate
council woman hesitates
Public gets irate but forget the vote date
Weatherman complaining, predicted sun, it's raining
Everyone's protesting, boyfriend keeps suggesting
you're not like all of the rest
Garbage ain't collected, women ain't protected
Politicians using, people they're abusing
The mafia's getting bigger, like pollution in the river
And you tell me that this is where it's at
Woke up this morning with an ache in my head
I splashed on my clothes as I spilled out of bed
I opened the window to listen to the news
But all I heard was the Establishment's Blues.
Gun sales are soaring, housewives find life boring
Divorce the only answer smoking causes cancer
This system's gonna fall soon, to an angry young tune
And that's a concrete cold fact
The pope digs population, freedom from taxation
Teeny Bops are uptight, drinking at a stoplight
Miniskirt is flirting I can't stop so I'm hurting
Spinster sells her hopeless chest
Adultery plays the kitchen, bigot cops non-fiction
The little man gets shafted, sons and monies drafted
Living by a time piece, new war in the Far East
Can you pass the Rorschach test?
It's a hassle it's an educated guess.
Well, frankly I couldn't care less.